0. Who should I contact regarding my transfers?


Once you've accessed the International Transfers site (via the link in your online banking or app), our provider will be able to assist you directly:
Phone: 1-604-256-6200
Live Chat: A chat feature is available on the International Transfers landing page when accessed within online banking or app (bottom right).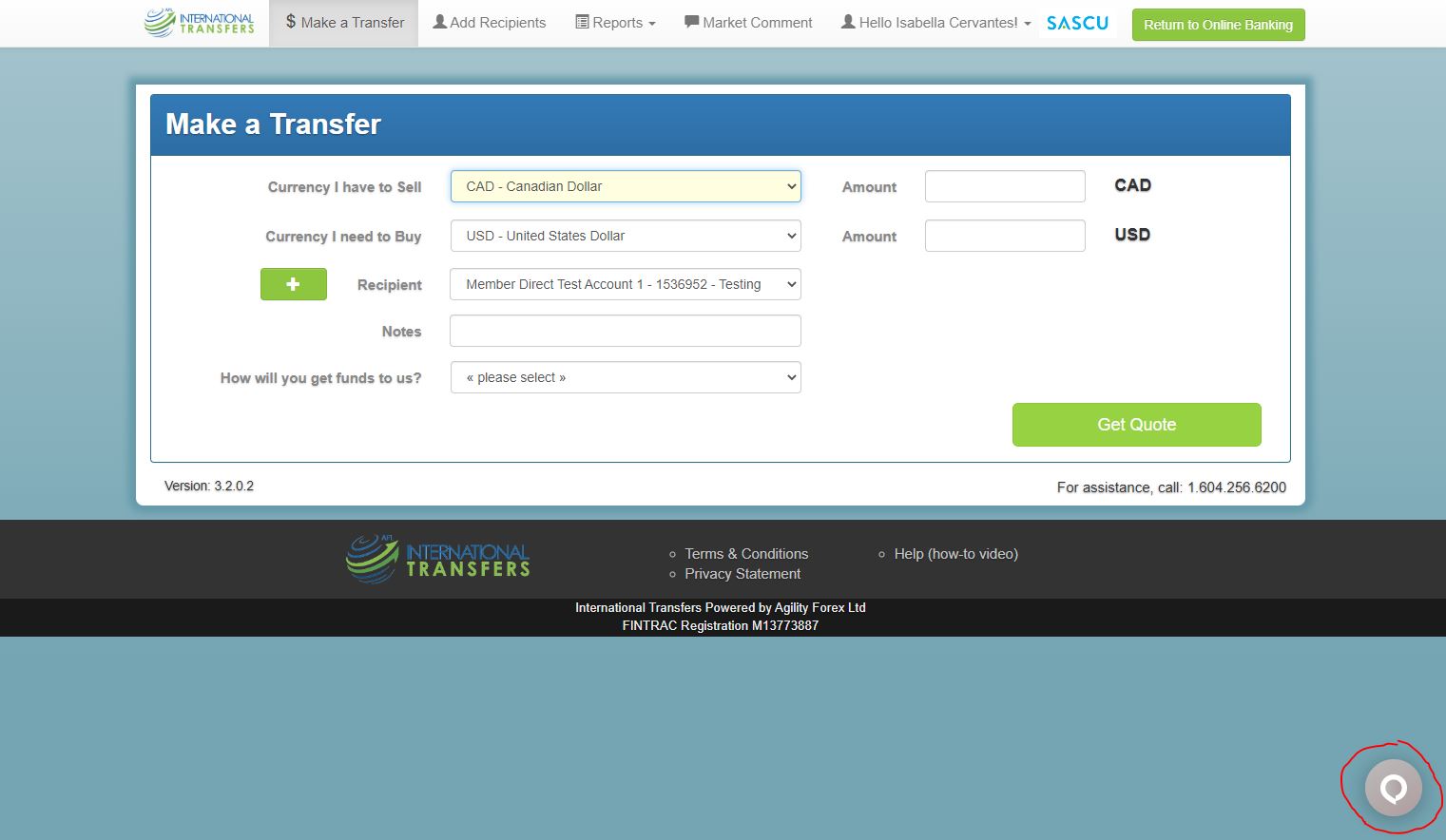 1. What is an international transfer?
​International transfers are a convenient alternative to wire transfers, that enables you to make transfers internationally through your online banking or app.
Whether you're paying your mortgage overseas or sending money to family abroad, self-serve international transfer empowers you to send money from the comfort of your own home.
2. How do I make an international transfer?
Make a transfer in three simple steps:
Compete your one-time registration through online banking or app under the 'Transfers' tab
Add your recipient so we know where to send money to
Book your international transfer
Done!
3. What information do I need from the receiver to send them money?
Information can vary depending on the country. Your receiver will need to ask their financial institution for their deposit information.
You can find your deposit information on our Direct Deposit page under 'How to Read a Cheque' (e.g., at SASCU we have a transit number or branch identification number, an institution number, and an account number).
4. Who is AFL International Transfers?
International Transfers are done through AFL International Transfers, also referred to as Agility Forex, a Canadian fintech company.
When you log in to online banking and select the International Transfers feature, AFL International Transfers' website opens via single sign-on. You then create an AFL International Transfers profile before sending an International Transfer.

5.What is the maximum and minimum transfer amount?
You can transfer as much as $25,000 or as little as $10 per transaction within 1-2 business days – no hassle.
Transactions over $25,000 are subject to longer delays. If you'd like to send a higher transfer, you can request one with AFL International Transfers (the provider) by contacting support@internationaltransfers.ca, 1-604-256-6200, or by using the live chat on the International Transfers landing page when accessed within online banking.
Note: you might be asked to pass additional security measures.
6. How do I keep track of my transfer?
Your transfer will appear in your transaction history in online banking in real-time, plus, you'll receive an email notification when the transfer has left your account and when it arrives at the recipient's account.
7. When can I make international transfers?
Anytime, anywhere. Simply login and navigate to the international transfers page.
8. How long does the transfer take?
Quick next-day delivery in North America and up to two business days everywhere else.
Transfers over $25,000 may experience longer delays.
9. Can I transfer from my US dollar account?
Currently, only transfers from Canadian dollar accounts are supported.
10. How safe is my transfer?
Your transfer is protected with AES 256-bit encryption, automated identity verification, anti-money laundering procedures, automated online checks, advanced anti-fraud safeguards and insurance coverage - all through a FINTRAC-regulated entity.
11. Who can send an international transfer?
You can send an international transfer from your personal account.
International Transfer is not available for Small Business Online Banking. SASCU instead provides wire transfers for Small Business Online Banking members in branch. Contact us >
Also note, money can't be transferred from a US account. You are debited in Canadian dollars.
12. What are the exchange rates?
With live pricing, you get the real exchange rate—every time.
13. How do I know how much the recipient will receive?
With our guaranteed transfer amount, what is sent is what is received— there are no deductions ever.